MB, who is in his early fifties, started to lose his hearing a couple of years ago. He began working in construction at 18 and thinks that being in such a loud working environment, involved in demolition projects, may have had an impact on his hearing over the years. He explained there was less awareness about health and safety and the need for ear protection when he first started in the industry.
When he began to have a problem with his hearing, he went to his GP, who referred him to audiology. The audiologist confirmed that he was losing his hearing and that it had deteriorated very rapidly. MB was given hearing aids, which helped, but he was still finding it hard to hear the doorbell or the telephone ring. He also had trouble hearing people fully when he was in conversation with family, friends or work colleagues. He loves listening to music but couldn't hear it unless it was on very loud and was having a similar problem watching television. He was reluctant to have the volume up too loud, as he didn't want to disturb the rest of the family, and so was missing out on relaxing with music or watching his favourite programmes on TV.
MB's wife then came across a leaflet about CfD's work and he got in touch to ask about any support we could provide. We booked an appointment for our Equipment Officer Piers to visit MB at home. Piers talked to him about the difficulties he was having and explained the range of equipment that could help. Piers then went back on a second visit to install a Signolux alerting system, which rings very loudly and flashes when the phone goes or someone rings the doorbell. As MB explains "Before I couldn't hear the doorbell or the telephone ring. Having this flashing and amplified alerter means I don't have to rely on the family to let me know when there's someone at the door or when the phone goes, so I feel independent again."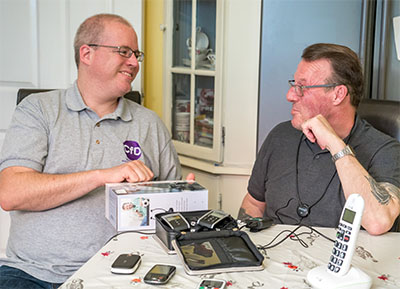 Piers also provided a personal listener, which is a piece of equipment which amplifies sound and works particularly well with hearing aids on a loop setting. MB has been able to use this when talking to people and he now says "Before when I was listening to them it was as if they were far away but now with the equipment it's like they're close to me again and it's especially nice to be able to hear my family and my young daughter properly."
Another benefit of the personal listener is that MB is able to plug it into his phone, which he uses to listen to music. He can now listen to the music through the headset on the listener and can enjoy his favourite tracks without disturbing anyone.
Piers also installed a TV listener, which is a piece of equipment which allows MB to listen to the television through an individual receiver. He can control the volume on the receiver and can have it as loud as he needs as only he can hear it. The TV listener doesn't interfere with the normal sound on the television so that the rest of the family can also watch television at the same time at a regular volume. MB is delighted with this piece of equipment and says "I can relax and watch television now without disturbing the family. I get peace and they get peace so everyone is happy!"
To find out more about our Equipment Service and the support we can provide, please see the Equipment page of our website or contact us in one of the following ways:
Phone: 0345 9007830
SMS text/WhatsApp: 07545 264840
Email: equipment@centrefordeaf.org.uk
Please note that we are not currently making home visits due to the Coronavirus but we are running our service remotely. This means we can still make assessments for equipment over the phone or by email or video call and we can then deliver any items to your doorstep.